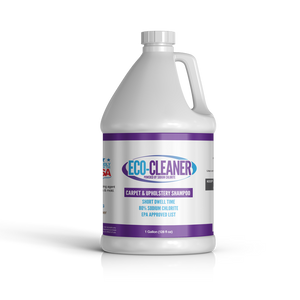 Eco-Cleaner Powered by Sodium Chlorite
Eco-Cleaner is a non-hazardous soft surface shampoo powered by Sodium Chlorite, an EPA approved ingredient for eliminating Coronavirus. Eco-Cleaner is specifically designed for cleaning and disinfecting carpets and upholstery. Eco-Cleaner features a water-soluable, non-toxic foaming agent that kills viruses, bacteria, allergens & mold.
Eco-Cleaner product features include:

Short Dwell Time

80% Sodium Chlorite

On The EPA Approved List

Lemon or Leather Scented

Proudly Made in the USA
Active Ingredient: Sodium Chlorite (80%)
Other Ingredients: Purified Water, Fatty Acids, Alcohol, Non-Toxic Foaming Agent.
Directions For Use: Use on soft surfaces like upholstery and carpets.